Medical Supplies and Equipment
Before each clinic, we ship 25 or more boxes of medical supplies for use in medical, surgical, and dental procedures.  We store examination lamps, and other equipment at the school. Throughout the year, we receive donations of medical supplies from our local health care system.
US law requires that all supplies left in an open pack be discarded, rather than be used for the next treatment or procedure. Like many other US charities, we recycle such supplies, helping charity patients rather than contributing to domestic landfills.  We have also received donations of operating room equipment, beds, chairs and hospital furnishings, when a hospital moved.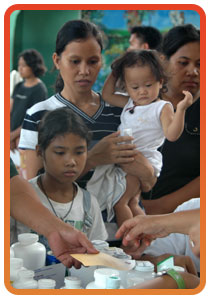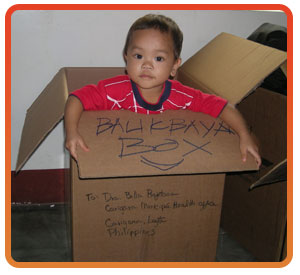 Each year, we are invited to visit rural and under served areas.  Each facility is scrubbed clean and ready for our visit, but completely lacking equipment and supplies. We gathered enough durable equipment in 2006 that we were able to ship three forty foot containers to donate to hospitals in the Philippines. Knightsbridge International, another US based non profit, arranged to receive the containers in Manila.  Knightsbridge stored the equipment until we traveled to the Philippines for our annual mission.
Our group loaded large rented trucks for a punishing 24 hour journey to Leyte. We gave Knightsbridge about half of the equipment, because that organization could distribute the equipment widely.
They work together with the Coast Guard and US army in quite remote locations, helping to rebuild.  We donated beds and wheelchairs to a womens' charitable hospital in Manila.  Our friend Jovy, President of the Rotary Club in Quezon City, distributed other furniture.  A rotary club in Manila distributed other supplies to charitable hospitals around the capital.